Article: Danske Says Bank Has Excess Capital to Reward Shareholders
Danske Bank A/S has built up enough extra capital to commit to dividends and, at the end of this year, will look into the option of resuming share buybacks.
Christian Baltzer, who started as chief financial officer at Denmark's biggest bank in October, pointed to capital buffers that exceed both regulatory requirements and the bank's own targets as evidence it can afford to return money to shareholders.
"We right now have a strong capital position of 16.7 percent, well above our own target and well suited for whatever might come our way," Baltzer said in a phone interview on Tuesday.
Shares in Danske rose to the top of Bloomberg's index of European financial stocks on Wednesday, gaining as much as 2.6 percent higher. Because of the May 1 holiday across much of Europe, many banks weren't trading.
When it comes to dividends, Danske aims to return 40-60 percent of profits to shareholders each year, and "we can definitely maintain that," Baltzer said. "Share buyback, it's something that we discuss year-end with the board, so we'll have a look at it at year-end." He said that Danske also needs to discuss the option of share buybacks with the financial regulator.
The assurances on shareholder rewards follow a grim set of quarterly results that drove Danske's share price down almost 10 percent on Tuesday. The bank said an Estonian money laundering scandal that erupted last year continues to weigh on its business, and pointed to higher funding and legal costs as part of the reason profits suffered.
Danske's management was forced to cut its outlook for the full year, with net interest income set to decline in 2019 and profit at risk of stagnating. Against that backdrop, the bank's capital position stood out as a bright spot, with its common equity Tier 1 buffer growing from a year earlier.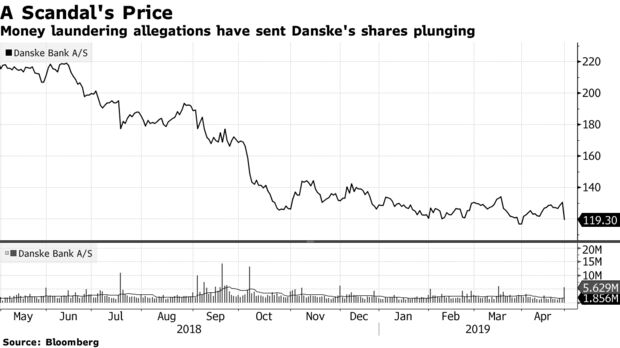 Contact ISAF to Determine Case Eligibility